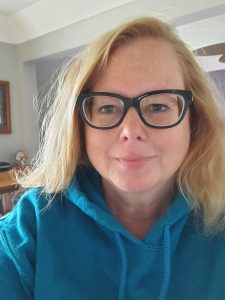 Michelle Hauck lives in northern Indiana with her hubby and dogs. She was a co-host of the yearly contests Query Kombat, Nightmare on Query Street, Picture Book Party, and Sun versus Snow and a six time Pitchwars adult mentor.
Her Birth of Saints trilogy from Harper Voyager includes Grudging, Faithful and Steadfast.
She is an associate literary agent for Storm Literary Agency. Michelle is currently accepting young adult, middle grade, and select adult genres. She has a particular love of science fiction and fantasy as well as historical fiction, and is not the best fit for romance, though she does love a romance sub-plot. Please check out her full wishlist and submission directions at Storm Literary Agency.
She likes positive, upbeat characters, quirky humor (or really any humor) and is always excited to see stories with diverse underrepresented voices. Other traits she likes in a story are: Characters with lots of backstory that is revealed slowly, villains with complex motivations and layers, and stories set on secondary worlds or settings that are other than American or European.
Michelle uses Query Manager and responds to all queries.
I am closing to queries on March 1, 2021 for a few weeks to catch up.
Twitter | Facebook | Tumblr | Goodreads
Clients:
Julie Shattuck
As a child growing up in Britain, Julie dreamt of writing stories and travelling the world. She wrote her first book in third grade during her brilliant teacher's Wednesday afternoon "Free Writing" hours. This teacher also kick-started her love of words when he put "antidisestablishmentarianism" on his first spelling test.
After finishing university, Julie set off on her travels and taught English in Spain and South Korea, where she met her husband. As he is American, she decided it was a good idea for them to live in the same country, so she made the U.S. her home.
Currently, Julie resides in Maryland with her husband, their two daughters, and two rescue dogs.
Julie is a community college English professor with a passion for lifelong learning. She earned a Bachelor of Arts in English Language and Literature, a Master of Arts in Linguistics for English Language Teaching, and a Doctorate in Distance Education.
When she is not writing middle grade books, Julie enjoys being on the water in a boat, canoe, or kayak. She is a member of the Society of Children's Book Writers and Illustrators and interacts with many wonderful writers in online critique groups.
Twitter: @JulieShattuck