Picture Book Party Spring 2020
PB Party Entry 4: Moon Bug, The Spotted Zebra, Author Illustrator
Title:
MOON BUG, THE SPOTTED ZEBRA
Genre:
Author Illustrator, Character Driven
Query:
Dear Michelle and Mindy,
MOON BUG THE SPOTTED ZEBRA, 335 words, is about the love between a mother and her spotted zebra, but this rare foal lacks camouflage and the herd is frightened Moon Bug will attract the lions. After running away, Moon Bug discovers his differences could be the key to saving the herd. ‬The story exposes challenges for being unique as in NOT QUITE NARWHAL (2017), by Jessie Sima, while delivering the affection of Audrey Penn's THE KISSING HAND (1993).
The Moon Bug story was inspired by Tira, the real spotted zebra discovered by Antony Tira, a photographer and guide in South Africa. That story is included in the back matter, along with 'enlightenment' to protect declining populations of moon bugs (also known as lightning bugs).
My writing path includes a win in the Fall Writing Frenzy contest, and illustration for #PBParty 2019. I'm an active member of Northern Ohio SCBWI, Julie Hedlund's 12×12 Picture Book Challenge, a participant at the 2019 (and upcoming 2020) Andrea Brown's Big Sur at Cape Cod workshop, and Picture Book Summit. When I'm not writing or painting, I enjoy critiquing and beta reading for both published and unpublished authors. I have been an artist my entire life, beginning with Smashed Peas On Highchair #3, but as a newly retired art teacher, I'm currently developing my skills for illustration.
I will gladly send other picture book manuscripts if interested.
Excerpt: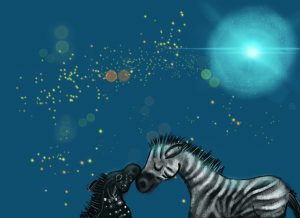 On a warm summer night, while moon bugs danced,
a black spotted zebra was born…
a rare and beautiful gift.
"I will name you Moon Bug," his mother whispered.
In the morning light, Mother led Moon Bug to the watering hole.
Wildebeest scuttled.
Antelope sprinted.
Ostrich buried his head.
But the zebra herd stopped and gawked.